ESTA-USA and DISPOZ-A-BLADE now offer the industry's first self setting knife for both planers and jointers. (Sets from the top of the cutterhead)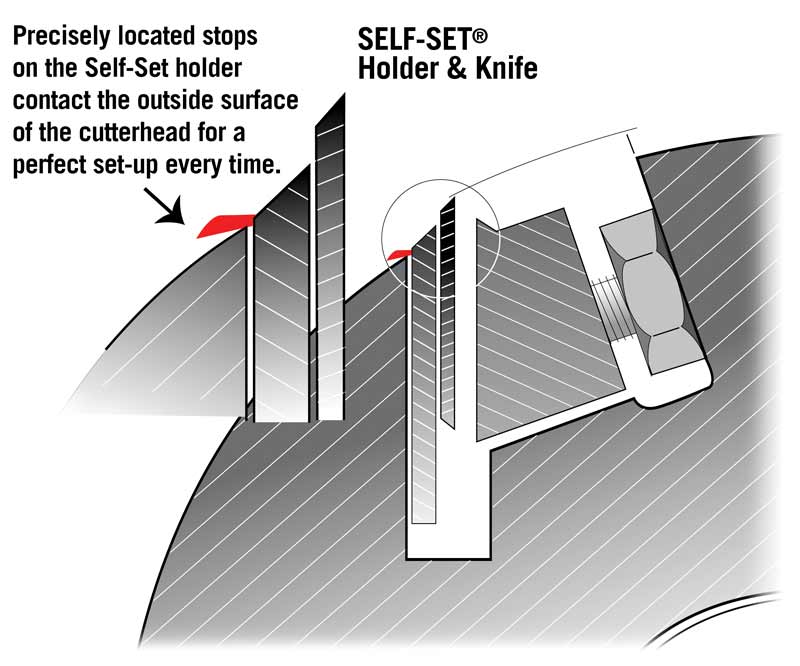 ESTA-USA Inc. & DISPOZ-A-BLADE LLC has now expanded the line of the world's first Self Setting knife for use in most popular planers and jointers. First introduced to fit 6 & 8" jointers, overwhelming customer requests called for making SELF-SET® available for both jointers and planers to replace troublesome conventional knives. Unique to the industry, the SELF-SET® knife installs in the machines ordinary stock cutter head, therefore eliminating the need to buy special costly cutter heads as required by every other quick change knife system. SELF-SET® knives require no machine modifications or the use of jack screws, springs, setting gauges, jigs or measuring tools. No special skills are needed to quickly change knives with precision accuracy every time.
Knife changes are as easy as snapping the disposable double edge knife onto the SELF-SET® holder and sliding the holder and knife into the knife pocket until the precisely located stops contact the outside surface of your cutter head. The time it takes to change knives has now been reduced to the time needed to loosen the cutter head gib bolts, replace the dull edge and retighten. SELF-SET® eliminates all the time and frustration associated with changing knives and is much more economical than buying and re-sharpening standard knives. Dispoz-a-Blade's trade tough German HSS and Kobalt steel double edge knives are always factory sharp. SELF-SET® has received industry wide recognition as a new product that has significantly increased shop productivity and work quality while being affordable. Call, fax or e-mail us today with your applications.

SELF-SET® Installation:
1. DISCONNECT POWER. Remove your knife, springs or jack screws from your machine and clean the cutter head.
2. Snap the Dispoz-A-Blade HSS or Kobalt knife on the pins of the SELF-SET® holder so that both bevels match (are in the same direction).
3. Slide the assembled SELF-SET® holder and knife in your cutter head knife pocket until the stops contact the top of cutter head on the back side of the knife pocket. Tighten the gib bolts.
4. DONE!
Need more more Info? Here is our Self Set Instruction sheet
ANYONE CAN SELL YOU A SHARP KNIFE… ONLY DISPOZ-A-BLADE CAN SELL YOU ONE THAT SETS ITSELF IN YOUR PLANER & JOINTER'S CUTTER HEAD.
Planer Knives ANYONE Can Change at a price ANYONE Can Afford!
"Thousands sold because they work"